Braille boxes at Visio
Visio is a school where you have to explain things differently than most of us are used to. A school where the children can see poorly, if at all. This requires different skills from teachers, different skills that children need to learn and, of course, different teaching materials.
Education for visually impaired students has been provided in our country since 1808. Students who have poor or no vision. We previously showed how information is conveyed to visitors with visual impairments at the Sonneborgh Observatory. But in a school, of course, that requires something more. In recent centuries, teaching materials have evolved quite a bit, with the techniques of 3D printing being a good addition. We were visiting Visio in Grave, where Evert Rasing showed us what that supplement means.
Teaching Materials
Evert is a project manager and deals with educational innovations "in the broadest sense of the word. This ranges from an analog braille box to digital apps for math and accessible calculators." Rasing is part of a team within Visio that is bridging the gap between analog and digital learning and making 3D printing available at all sites. "We have five school locations and at each school we can deploy printers. That means not only that there are 3D printers at every school, but also that there is a specialist with the right skills."
"Using 3D objects, you can explain very fundamental concepts. For example, in math, how figures relate to each other. And in biology we can make molecules and atoms in 3D, so students can feel what that looks like. The great thing is that with this you can make both very small and very large objects 'visible', from atoms to the Eiffel Tower." Children's imagination can still vary greatly in this regard, depending on whether the child was born blind or later lost sight.
Utensils
3D printing is being used at Visio schools for more than just teaching materials. Evert says many utensils are also developed and printed. "You have to think of a tool to place your workpiece or tool properly or a kind of fence on a table, a raised edge that prevents things from rolling off the table. We have quite a lot of equipment for this; apart from 3D printers, we also have a laser cutter with which we can make many objects. What few people realize is that with a personal computer and a smartphone, our target group has increasingly equal opportunities to use them. Our aim is to give our students equal opportunities as children without disabilities, and that requires good tools."
Braille Box
Parts On Demand supplied Rasing with parts for a so-called braille box. "We used to make the parts for the braille box out of wood. You can imagine that was pretty labor intensive." Evert pulls out the Braille box and shows how in several drawers there are blue reading boards and loose yellow elements that look like puzzle pieces. These puzzle pieces are called cells and each contains a braille symbol. "The braille expert within Visio had asked us to 3D print the cells. And to keep the overview, we developed a box ourselves with a way of arranging it that ensures that the students can find the right cells themselves as well as tidy them up." This project was started with the idea of developing one box, Rasing says. "But that soon became thirty. And per letter you need several copies to make sentences, so you so quite a few cells to make."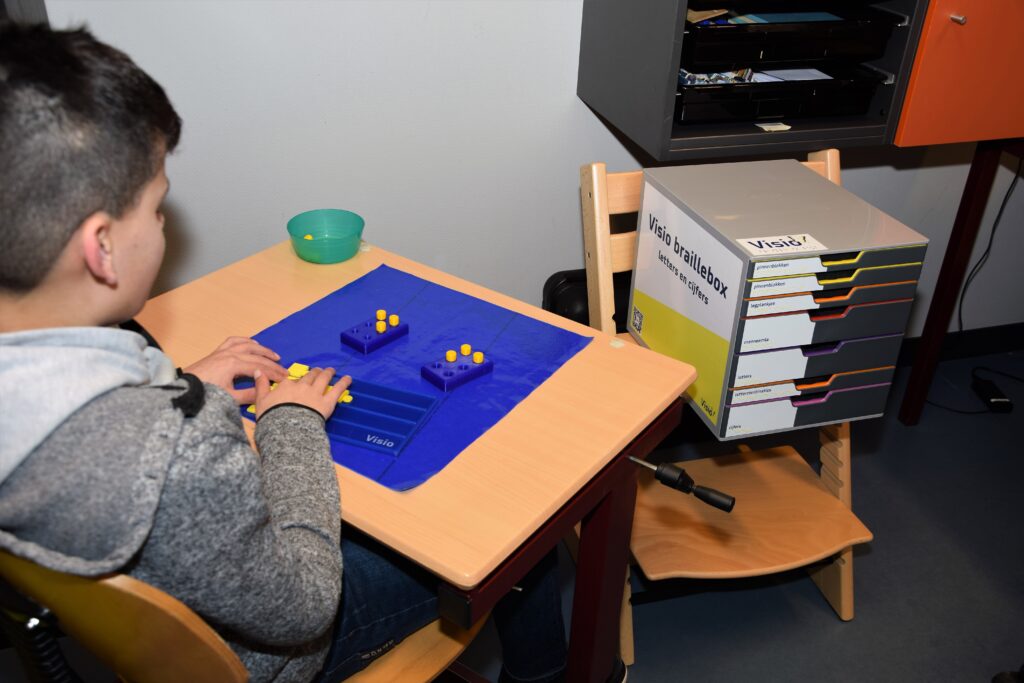 Great variation
"A braille typewriter uses movable cells, but for the braille box we need static cells. So for each character there is one cell. And if you then consider that we wanted to make thirty braille boxes, you can understand that that is too much to print ourselves. We do make the prototypes ourselves, but for the large quantities we commissioned Parts On Demand. The cells are relatively difficult to print with our own FDM printers because of the large variety and quantity. Injection molding was also not an option due to the large variation and we get a better print quality with the SLS technique than we get with our own FDM printers and that is very nice for these cells."
The reading shelves and cells have bright colors. "They are our own Visio colors, but they also have another function, because the high contrast between the yellow and the blue allows students who still have some vision to use it."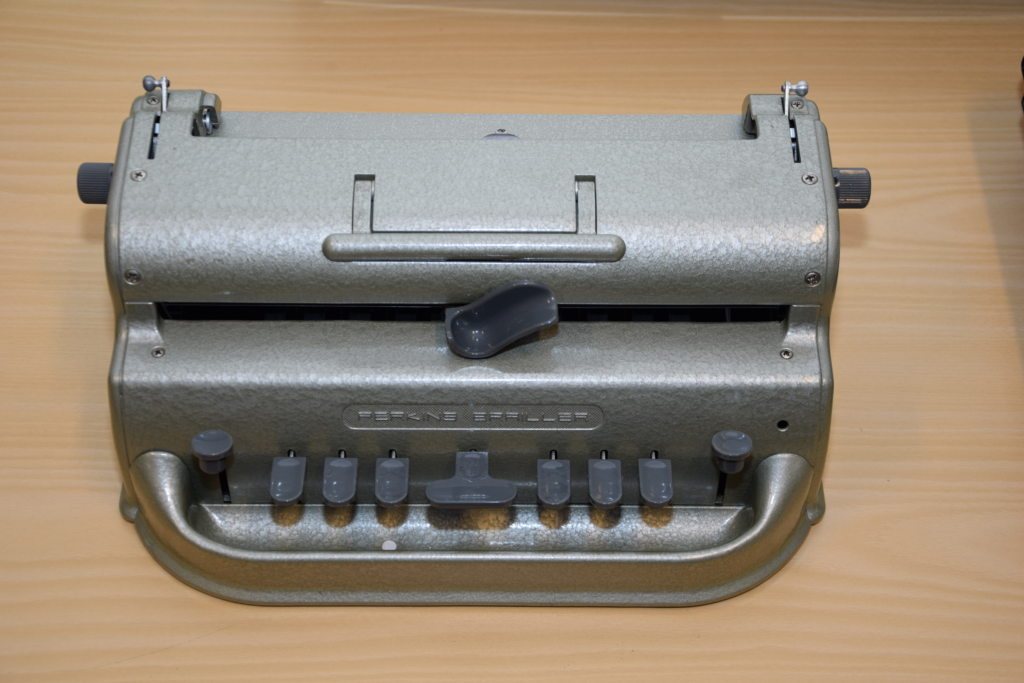 Behind the scenes
"During our search for a 3D printing partner, we came across Parts On Demand. The online tool turned out to be a very convenient one for us. We talked through the benefits in our team and made contact fairly quickly. Neil van Es invited us to come and take a look. That was very enlightening, we could see the whole process from beginning to end. Also the post-processing and coloring with pigment. We were looking for high-contrast colors, as I said, and that was no problem at all." He laughs and tells how it felt like being in an episode of Clockhouse. For the older among us: the TV show that gives a behind-the-scenes look at how something is made.
Open community
3D printing gives the ability to add information to objects and make those objects tactile. Thus we see a huge cabinet of objects – from dinosaurs to gears – where it is not only possible to feel what something looks like, but also information may be printed along with it. For teaching subjects in all directions, from body awareness to math. "It is very nice that the 3D community has a very open attitude. We don't have to invent the wheel ourselves, but can ride on the ideas of others. That's how you speed up the development of your resources."
"We use our 3D printers very intensively, also in engineering classes. We have two per school and because all schools have the same printers, we can share files and we have built a database where you can also find the guidelines and tips we have developed for the target group."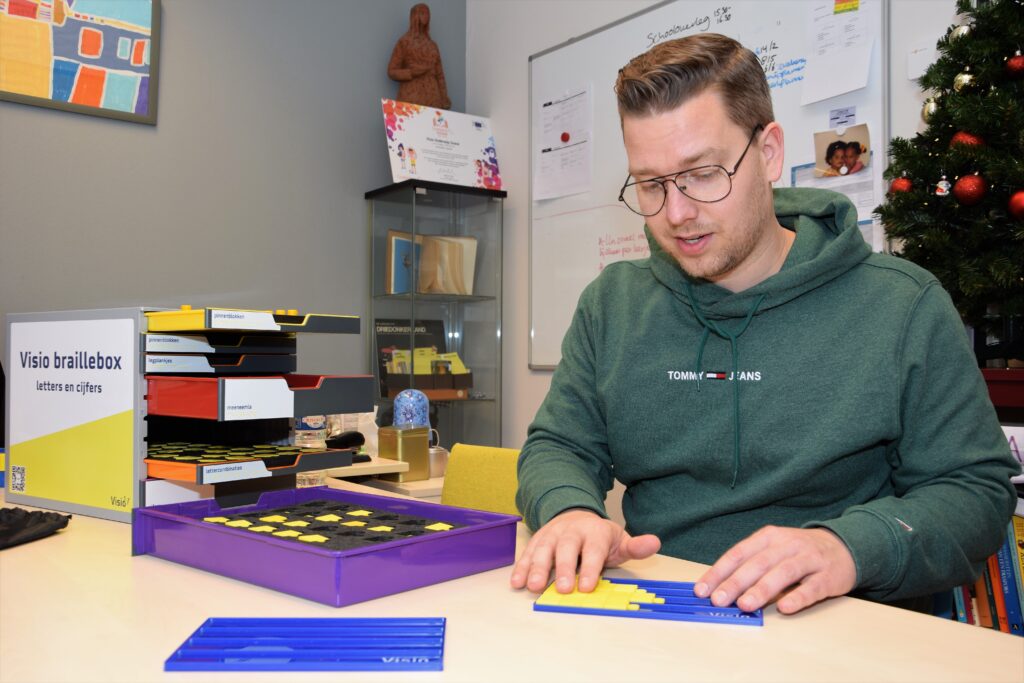 Fresh and Young
"Meanwhile, we have also given a second order to Parts On Demand. It is a fresh and young company in a beautiful location, which is busy conquering the world," Evert laughs. "People are very approachable and do very great and beautiful things. We had a blast getting in touch with them, it really feels like that. The commitment and enthusiasm feel like a warm bath!