Yumen just does it
Imagine. All around you, you see all this technology taking off. And your best friend has Duchenne's disease and therefore can do less and less because his muscles fail. This is the situation Paulien Klap found herself in during her college years. Justus is the name of this friend and to him the cry Just do it applies here. Did we have you on the wrong track for a moment?
Justus was the inspiration for the development of an exoskeleton that supports the movement of the arms. And that that makes a world of difference, Yumen's COO Paulien Klap is happy to explain to us. "Not only is the independence of children with Duchenne hampered, but also their own development. Without the disposition of your arms, it is not possible to pursue hobbies. Thanks to the exoskeleton, they become individuals again. It is more than participating in the family because you can pet the dog again and cut your own sandwich. It is an opportunity for personal development. For example, one of our guys – that's how we like to talk about our group of testers – likes to play the piano and another is into nature photography."
Custom
An exoskeleton is custom made for each individual. It's not just a matter of supporting the poor, but the question of "what do you want to be able to do with it?" is central. "One of our boys started moving his arms up and down very enthusiastically, purely enjoying the movement. It doesn't seem obvious, but the most ordinary things come up first when we ask this question. 'Just' moving, but also eating, drinking, combing hair, the simple things, that is often the first thing that is mentioned."
Yumen Bionics was created after the completion of a multidisciplinary research project from several universities and companies, based on that basic question: what can technology do for children with Duchenne. The focus was on the function of the poor because that function is the most important for being able to function independently and participate in society. The children targeted by the project were those aged 12 to 18. "It turns out that from the age of 12 the kids can really get serious about it and they understand the impact of the tool." During the research phase, Justus was both a subject and an intern. Paulien explains that the life expectancy at the start of the research project was about 17 years. "By now it has risen to about 30 years!" And while there are many life-extending developments, the disease itself is (still) not curable.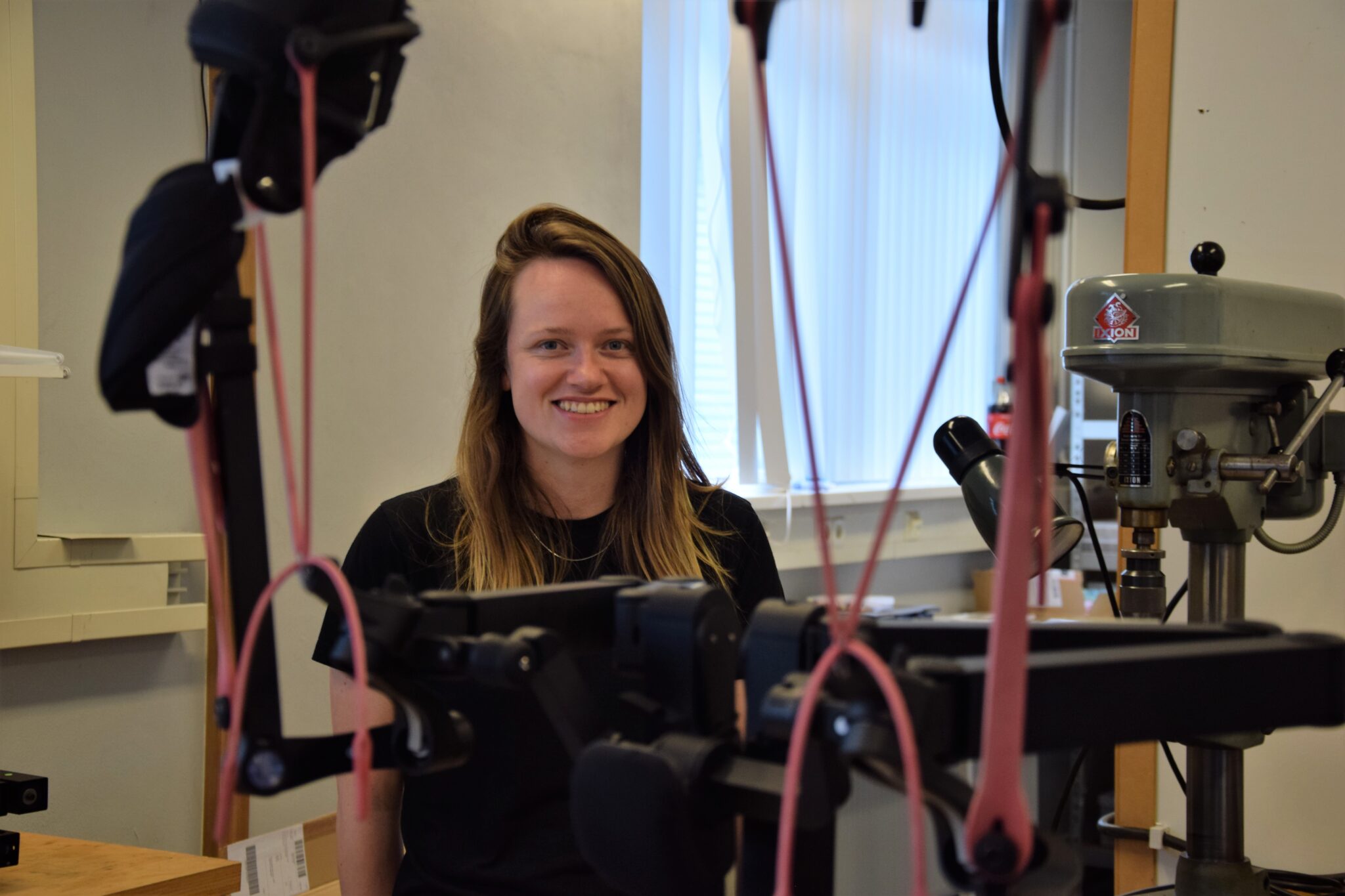 Run longer
This longer life expectancy has only increased the added value of the exoskeleton. "Someone with Duchenne can participate in society longer and make sense of it. They can even give a professional meaning to their life, as an adult. At the same time, this brings new discoveries and questions. In the past it was all about children with Duchenne, now there are also adults with Duchenne, who want an independent position in their lives. For example, inspirer Justus has his own company as a designer and is concerned with, among other things, the interpretation of these questions."
After the completion of the research project, there was a prospect of a possible production of the exoskeleton. "Duchenne Parents Project founded Yumen to make this possible and to be able to bring it to market. To develop it from a laboratory environment to a home situation. That turned out to be much more challenging than expected," says Paulien. "But in the meantime we have reached that point and it can go to market." When asked about the challenges, "The temperature of the rubber proved to be an unexpected problem. In the summer months, the material would completely die. Figuring out the right length, thickness, the linear behavior of elastic, we had to be able to deploy the right material in each specific range. But we also had to solve something in the width of the system. For example, in the beginning it was very complex to put it on, it only took fifteen minutes. We were able to reduce this complexity to such an extent that it can now be done within one minute. It has to be easy to use, because it can sometimes be necessary to take it off, for example to go to the toilet."
Again, it turns out that the greatest luck can be found in the smallest wins. "Participating in family life, being able to sit upright at the table and eat on your own. Things you don't think about produce the greatest joy."
See how far you get
At the end of 2016, Yumen was established and consisted of one person. "Now there are seven of us. We are a limited company, founded by the Duchenne Parent Project, so an initiative of the patient organization. As a result, we can also work very well with them. The motto at the start was very simple: Do it and see how far you get. Research, results, action. From researching a functional exoskeleton in a hospital setting, to a home situation. The prototypes brought the result one step further and further into the market-ready phase. In the first phase, we focused on designing more efficiently with CE marking. To make the design safe, but also to be able to bring it to the market. We had a test team of six people in the laboratory and one person had a system connected to a wheelchair to test it in the home situation."
And then there was corona. Also a huge bummer for this project. "For two years we could not have contact with the boys and their families. We focused on other things by necessity; in addition to CE certification, we set up our service system. How do we make a skeleton to size quickly. And how do we integrate size variations and what things can we make all adjustable. Because the skeleton can grow with the person by design. All these developments also make it cheaper to produce, which is also a not insignificant issue."
At the moment the skeleton is only available for the Dutch market, but with CE it can also be made available for the entire European market. "That also requires setting up a service network in Europe, so that's another challenge."
The skeleton
The basis of the exoskeleton is a metal structure that follows very precisely the movements of human joints. "You have to, otherwise you come into conflict with your own movements. The skeleton has to move as naturally as possible so you can keep the muscles as healthy as possible. You are not training the muscles but supporting them. For example, think of someone with a leg in a cast. Muscles that are not used lose a lot of strength. And in Duchenne, what is gone does not come back. So the key is to maintain it."
"It is mostly the parents who respond emotionally and hopefully. They see gains over time. Children are actually not even surprised but find it very natural, they react very casually to their weightless arms suddenly listening again to what they want those arms to do. The skeleton doesn't lead the movement, it really supports it. You see families are very resourceful. They have to solve everything themselves and think with each other. That really unlocks a 'superpower' in them, the creativity shows in a huge variety of 'lifehacks', we see that again and again. And with the optimal use of technology, together we make the best result."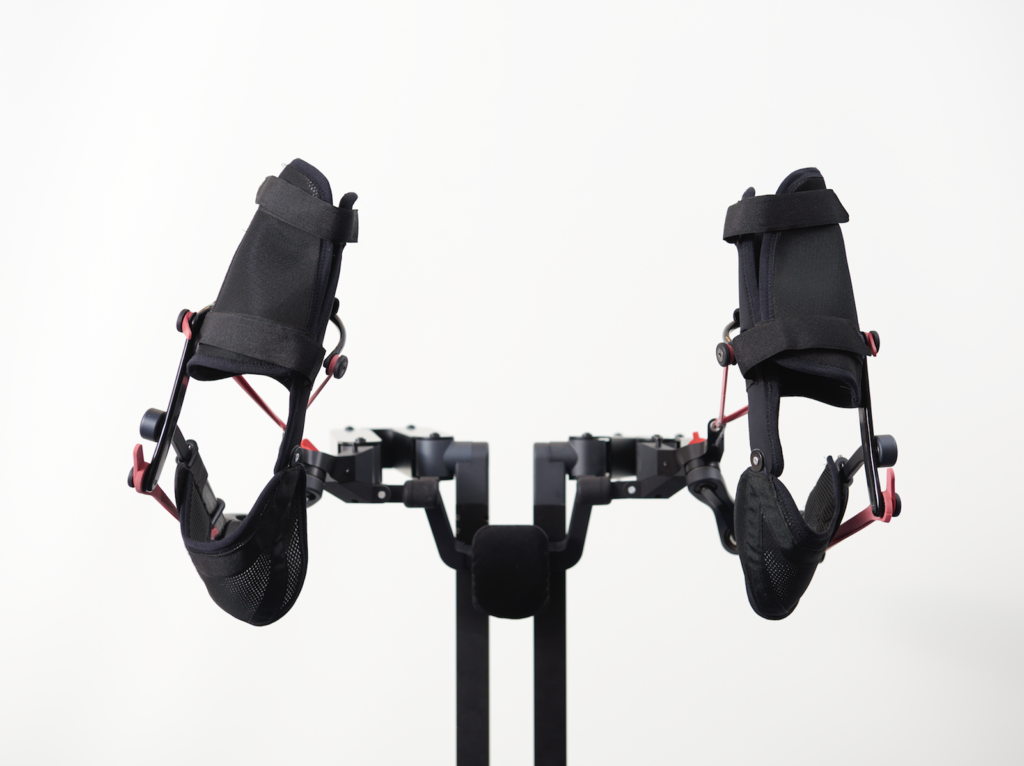 In the meantime, the development has progressed to the point that five exoskeletons will be tested for a longer period of time in the home situation, in daily life. "We can do this again thanks to the Duchenne Parent Project. Together with Radboud Hospital, we made the selection so that we have the widest possible test group. This way we can learn as much as possible from these tests. We included age, hobbies and wheelchair types. There are a lot of people on the waiting list and we also really feel it's a race against the clock because we wish everyone could use this. There is so much benefit in it!"
All for the result
That everything in the company is focused on that race and spending resources as efficiently as possible is evident in everything. The housing is on an anti-squat basis in the complex of a former cable manufacturer, the workshops are full of donated tools and machines. Its resources are put into tangible results. "We want to develop the available technology in a very focused way," Paulien explains. "We designed everything ourselves to get optimal comfort and efficiency of movements. All the parts that touch the body are made of fabric. And there are an incredible number of parts that we made with the 3D printing technique. The whole project is a huge learning curve, for example we went from 20 hours to 8 hours of assembly. The freedom of form that you have with 3D printing is really a big advantage, everything is possible and you get smarter designs. We can produce small quantities at low cost. That allows us to adjust a design regularly and develop it as quickly as possible. What's more, the finishing makes it look very nice. And the fact that you can design composed reduces assembly time. There is interaction with everything people touch, and with 3D printing you can print instructions and directions along with it."
The collaboration
Paulien introduces us to product developer Sjaak Kok who tells us about the collaboration with Parts On Demand. "Important aspects of 3D printing are the dimensional stability and compact design. We have a collaboration where they really think along with us. We really feel that we have an extension of our own company, and that the employees are just as interested in the result as we are. They give us input on the printing direction, optimal dimensions and jump in quickly if we have an urgent question so that we can continue the development and testing. The personal contact is very important to us. We are very happy with the way we work together. Our company cultures are open and honest and fit together very well."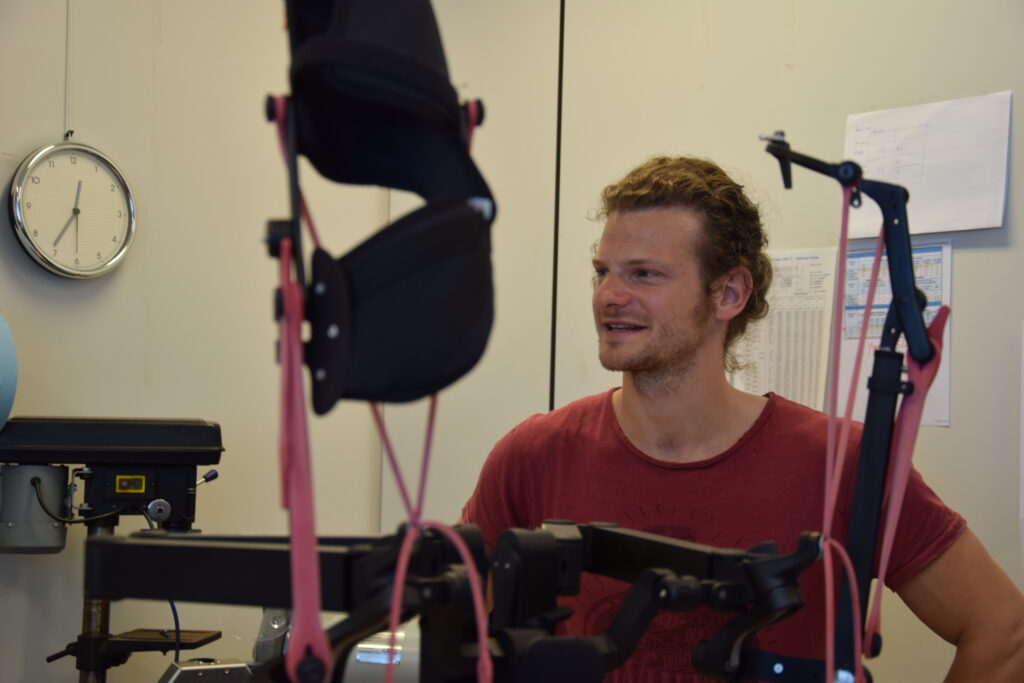 Actually, you could say it's more than collaboration. Parts On Demand wants to make a more significant contribution to the development of these tools that make a substantial difference in the lives of children with Duchenne. Therefore, the company has set up a prototype budget for Yumen that will allow Yumen to accelerate development. "This makes it possible for us to make as much difference as possible with our resources! We always push the limits of what is possible and consultation about the possibilities and wishes yields a lot. We are also immediately informed if there are new materials or developments. And – also an important fact – the material, and also the business process is certified for medical applications."
Even before contacting Parts On Demand, Yumen was already working on 3D printing. "We have been printing for a long time and were looking for a supplier with short delivery times." She has to laugh when she remembers her first reaction. "We actually thought the name was a little cheesy, but we were looking mainly at the delivery time. That's important for the test program. They did live up to that name for us in practice. They are very constant and communicate at all stages. We can then anticipate, because knowing exactly where we stand is very important to us. We therefore have a lot of personal contact and they are very flexible. Anyway, they have a good price/quality ratio and the research phase is also sponsored. And what we find important, we also feel back with them, first the people and then the technology."
Duchenne
Duchenne is a serious hereditary muscle disease that occurs almost exclusively in boys. The disease attacks muscles and weakens them to the point where they eventually stop working. The first symptoms are often apparent before the second year of life.